British Airways API booking integration
Requirement
The client is a well respected independent tour operator, specialising in winter holiday accommodation in resorts around the world. They wanted to offer online booking for their full range of apartments, chalets and hotels.
They also needed to enable their new partner, British Airways, to book from their property portfolio as well as through a number of other accommodation vendors.
A solution was needed that would seamlessly integrate their existing booking system with a host of third-party property feeds, allowing online bookings across thousands of properties.
Response
We took time to understand the client's needs and worked closely with them to build a bespoke system that met their evolving requirements:
Website
First we rebuilt their public website to be responsive across all devices and screen sizes. The client already had a lot of excellent photography, so the development of their new website was tailored around their existing imagery - following wire frames provided by a London UX agency.
Electronic card payments, and the ability to split payments across the group travelling, were added to the website to facilitate real-time e-commerce. Modern encryption standards were used to comply with international data protection legislation and keep customer data secure.
The user flow, from arrival on the site to booking, was carefully considered, allowing us to optimise usability and increase conversions.
Some key requirements & features considered during development:
Mobile first design
Leverage existing content & assets, where possible
Preserve existing search engine authority
Secure multi-currency e-commerce payments
Booking engine
We created a bespoke booking system that allows ongoing management of individual properties, multiple resorts and everything in between.
The system was designed to provide real-time data transfer for availability, pricing & placing bookings between accommodation providers, third-party vendors, the client & the general public. The website also allowed online travel agents to view booking commissions and create reservations.
The data itself was structured in line with Open Travel Alliance standards, allowing further interoperability and security.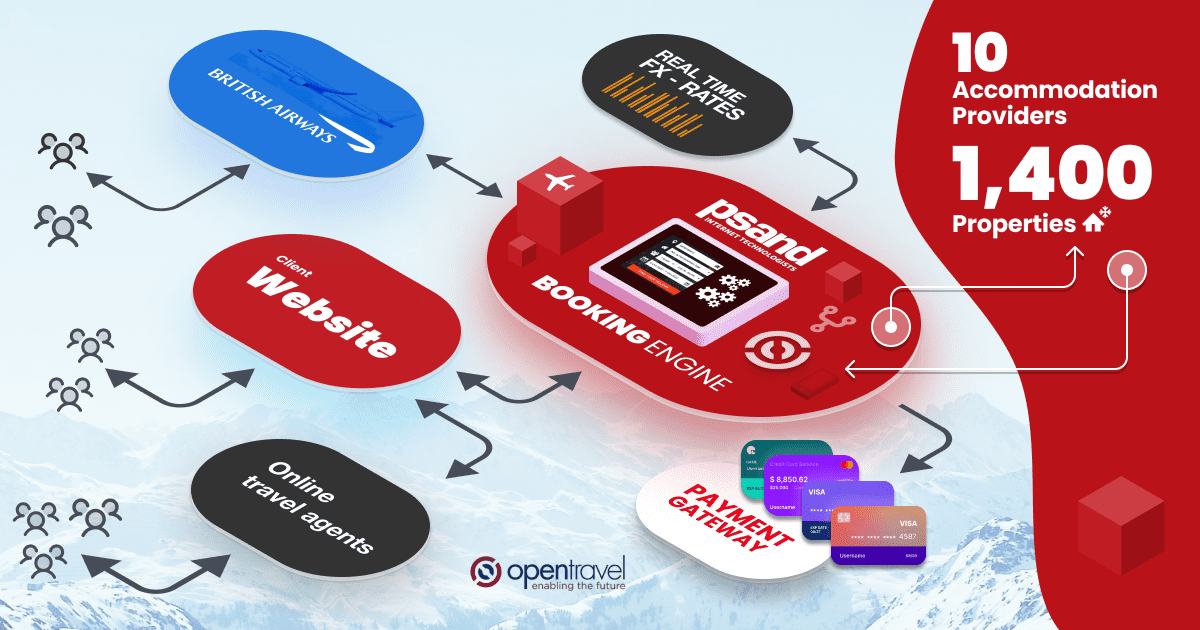 Our bespoke booking system:
Ensured all property data was structured in line with Open Travel Alliance standards
Enabled partners to check availability & book via secure XML requests
Made available over 1,400 properties in 125 resorts across 2 continents
Enabled online travel Agents to book via the website
Allowed property pricing and payments in a range of major currencies
Result
Launched with over 1400 properties, in 125 resorts across 2 continents
Online bookings grew by over 1500% in 4 years
Conversion rate grew year-on-year, see below.
New partners brought on board
Source: Google Analytics